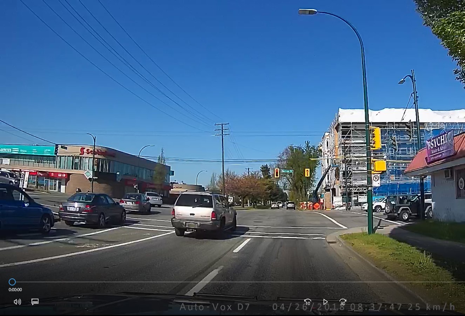 Dash cams, once the territory of only tech-savvy motorists and Russians capturing meteors (yes!—Google it!), are now becoming mainstream.
An excellent quality high definition dash cam can now be had for under $100 online. They are easy to install and have excellent resolution. They are easy to use to capture and download still photos and video. There are many high-end features for those who want to explore more advanced features like monitoring your vehicle when turned off and parked.
With the wide availability of such technology this raises the question of whether you want one in your vehicle.  Take this recent example from my commute to work.  Much to my amazement a vehicle overtook me and as can be clearly seen in the video below, narrowly missed a left turning driver as it entered an intersection on a red light:
In this case my video might help someone else establish fault for a collision, had it occurred.
Another incident last fall, close to my home, was a near miss. The vehicle to my right completely ignored a 4-way stop sign-controlled intersection. If I had been just seconds faster, I might have needed the video for my own car accident claim after being t-boned by the driver. This near miss was a half-block from home:
Many accidents occur without witnesses. In the absence of witnesses, courts and insurance companies often struggle with determining fault.
Why not have your own onboard witness?
Pacific Law Group monitoring developments in the field of onboard safety systems and will have future updates.
Meanwhile, if you have been injured in a car accident, contact our car accident lawyer, Kenneth Serné, for a FREE initial consultation to discuss your case and to take steps to preserve your rights.
Discover more about our experience with Personal Injury Law and meet our lawyers.